Although the tradition of making these cakes dates back to the medieval period, John Mollard's 1803 recipe seems to be the earliest printed recipe for an English Twelfth Cake. These decorated cakes were an important element in the celebrations for the feast of the Epiphany. They were at the height of their popularity when Mollard wrote his cookery book. It was the
custom for each guest at a Twelfth Day entertainment at this time to take on the role of a particular character for the whole evening. This was achieved by choosing a card at random from a pack. These were illustrated with images of various comic characters. As well as the King and Queen, who led the revels, there were many others – Counseller Double Fee, Mrs Prittle Prattle, the Dutchess of Puddle Dock, Toby Tipple and Sir Tun Belly Wash were all popular. The evening's entertainment ended with the finale of cutting the elegantly iced cake, which was usually very large and decorated with two crowns for the king and queen and sugar paste or wax images of the other characters.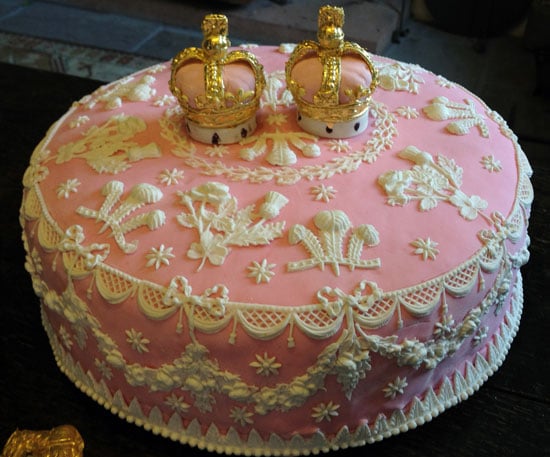 Here's how to make one....
Take seven pounds of flour, make a cavity in the centre, set a sponge with a gill and a half ofyeast and a little warm milk; then put round it one pound of fresh butter broke into small
lumps, one pound and a quarter of sifted sugar, four pounds and a half of currants washed and picked, half an ounce of sifted cinnamon, a quarter of an ounce of pounded cloves,
mace, and nutmeg mixed, sliced candied orange or lemon peel and citron. When the sponge is risen, mix all the ingredients together with a little warm milk; let the hoops be well papered and buttered, then fill them with the mixture and bake them, and when nearly cold ice them over with sugar prepared for that purpose as per receipt; or they may be plain.