Wellington Boot Birthday Cake
Posted on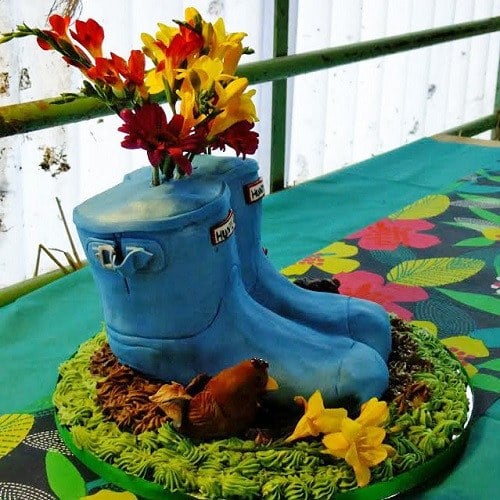 I was trying to think the other day which recent cake creation has been my favourite, I decided on this Wellington boot birthday cake.
I made this birthday cake for a farm party, hence the wellington boot theme! The party was set in one of their cow barns (it was scrubbed out to look spotless for the day!) they had a fantastic barn dance and the cake fitted in really well with all the guests wearing their wellies!
Here's how I made the cake....
The sponge was lemon drizzle cake made from three 9" square cake tins, the sponges ranged from different colour blues.
To make sure the cake didn't lean I drilled a hole in the base of the cake board and placed a large plastic dowel into the board. To secure, I used a hot glue gun to glue the dowel in place and left to dry.
I cut around one of my own wellies to get the shape of the base of the boot and once the cakes had cooled on the cooling rack I drew around the template of my wellington boot cut-out and started forming the shape of the cake.
I started to cut out even circles of the sponge cake (alternating the coloured sponges to make sure I had a nice pattern) and started stacking them on top of the wellington boot base to form the shape of the lower boot and the legs.
Once I had the shape that I was happy with I made my white chocolate buttercream (which was yummy!) and lightly crumb coated the whole cake, once the cake was covered with the buttercream I put it in the fridge up to an hour to set.
Once set, time to start icing!
I rolled out a large circle of blue fondant icing, lifting it up over the cake starting from the front , smooth with a cake smoother once happy. Before the icing dries out, start engraving the lines on the wellies, I followed a pair of Hunter wellies that I had at home, leave to dry.
Then the fun begins....decorate your cake to suit your required style!!!!
I added an chicken and guinea pig to my cake board (this was an additional requirement!!) and iced with green and brown buttercream.
Just to top it all off I decorated the cake with real flowers, making sure they don't touch the cake. I used a posy pick to insert the flowers into the cake.
The Wellington Boot Cake went down a treat!