Kaley Cuoco's Chandelier Cake
Posted on
Kaley Cuoco's Chandelier Cake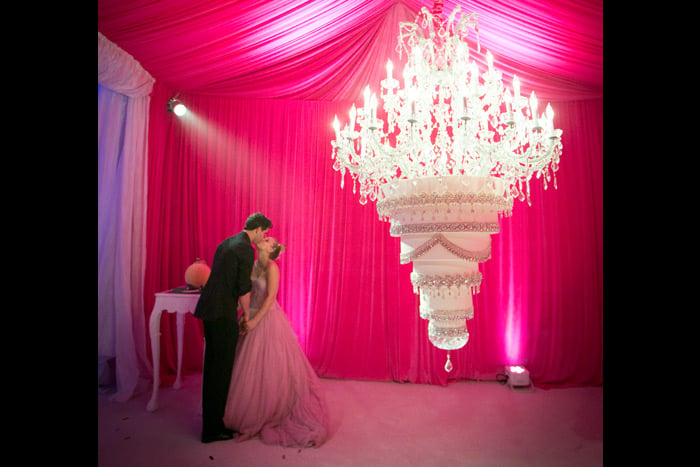 The Duke of Cakes in Bath creates delicious and stunning wedding cakes, as well as cakes for birthdays, anniversaries and all sorts of special occasions.
Here at the Duke of Cakes we're always looking out for new inspiration, especially when it comes to stunning and original ideas, and when we discovered this fabulous chandelier wedding cake, made for actress Kaley Cuoco by the Butter End Cakery in LA, we absolutely had to share it. A six-tiered jewelled white chocolate fondant cake hanging upside down from a crystal chandelier is something we've definitely never seen before!
It might look like it's purely a show-stopping centrepiece, but this cake was fully edible too - the bride and groom were even able to cut it while it was hanging in mid-air!
So how did they manage it? Although it was a serious engineering challenge, it's actually less complicated than it might appear – a central structure inside the cake attached it to the crystal chandelier, and boards attached to the armature (designed to blend in with the cake itself) supported the individual tiers.
So although the cake appears to be hanging upside down, it's really just the stand – the cake itself is simply designed upside down. Clever, eh?
It's still utterly stunning though, as we're sure you'll agree – we forsee a lot of copycat designs in the future! Who could resist such a spectacular centrepiece for their wedding?